NCP Authenticator App
The NCP Authenticator App works with 2-Step Verification for your NCP VPN Access or any other online service using the TOTP method to provide an additional layer of security when signing in. Once configured, 2-step authentication protects your account by requiring both your password and an additional passcode, thus adding an extra layer of security. The NCP Authenticator App will generate these passcodes for you in a convenient way, directly on your smartphone or tablet, without the need for Internet connection. The NCP Authenticator App does not only operate with a NCP vpn account, but also with accounts from Google, Dropbox, PayPal and all the other providers who implement authentication in this standardized way. For additional security QR codes generated by the NCP Secure Enterprise Management can enforce biometric authentication for starting the NCP Authenticator App.
The NCP Authenticator App is available for smart phones and mobile devices as a free download in the Apple Store and the Google Play Store.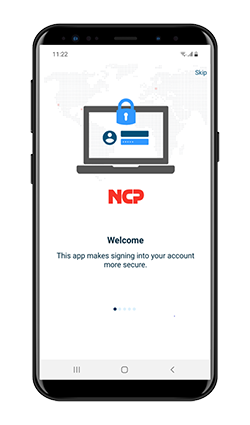 Features:
Generates time-based OTP (One Time Password) codes
SHA-1, SHA-256 and SHA-512 hash algorithm supported
Add an account easily by simply scanning a QR code with your device camera, via link in your smartphone browser or by adding it manually
The time-step for time-based passcodes can be 30 or 60 seconds
Generated codes can be 6 to 8 digits wide
No Internet/network connection needed, everything happens offline
Copy any generated code to the clipboard for easy and fast access
High security thanks to optional biometric authentication before starting the NCP Authenticator App